WEBINAR: Framework for Waste, Fraud, and Abuse: Understanding Your Data for Detection and Prevention
Criminals are constantly adapting to and testing fraud prevention systems. Business rules to identify and prevent potential fraud are incredibly difficult to formulate, and can be reverse engineered through trial and error. When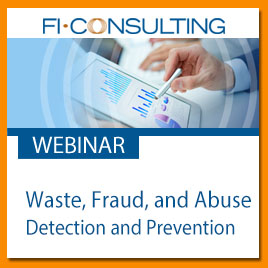 you focus on reducing one type of fraud, growth of another may offset your gains.
First in a series of FI Consulting webinars on Fraud, Waste and Abuse, this webinar will help you learn:
• What types of fraud detection techniques are being used in the market
• What types of fraud risks your organization might be exposed to
• What types of data can be analyzed for fraud
• How FI's fraud detection and prevention framework can incrementally help your organization in fraud detection, management, and prevention activities
• How to use advanced analytics to help your organization move toward more robust fraud prevention processes and procedures
We live in an increasingly digital world and many organizations have a vast amount of information on past cases of fraud. This webinar will help you leverage your data to better manage and ultimately prevent fraud.
Click here to view the webinar
Download a PDF (2MB) of the presentation FI-Framework-for-Fraud-Waste-and-Abuse-Webinar